2 year warranty

Made to order
3 Challenges at
esports events
In an arena packed full of cheering fans, players competing on-stage struggle to communicate with each other using normal headsets.
1. Headset Microphones
Pick Up Ambient Noise
Players are rightly frustrated when their headset microphones pick-up crowd noise and commentators' voices, and muddle this with team comms. What's worse is they hear this noise twice: through their teammates' microphones and the poor damping on their own headset.
2. Insufficient
Passive Damping
Players can struggle to hear important in-game sound cues, and even their own teammates, due to arena noise when playing on stage. Headsets with insufficient isolation allow arena noise into the headset and can lead to players not receiving game-breaking information, as they can hear the live commentary in the arena whilst playing on stage.
3. Ineffective
Solutions
Currently event operators have no equipment they can turn to, in order to fix the aforementioned issues. This leads to events distancing players from fans, using costly soundproofed cages and dialing back production value, all of which damage the online and in-person fan experience. However ultimately, these solutions fall short on all fronts: competitive integrity, fan engagement and operational overheads.
Fighter jet communication technology
We have partnered with Terma, a Danish state of the art defence technology company having the only operationally fielded Active Noise Reduction headset for fighter aircraft. Terma's audio solution is being used by U.S. and Danish F-16 pilots to be able to concentrate and hear threats while flying at speeds faster than sound. AceZone is now introducing this audio technology to be used in the gaming and esports communities.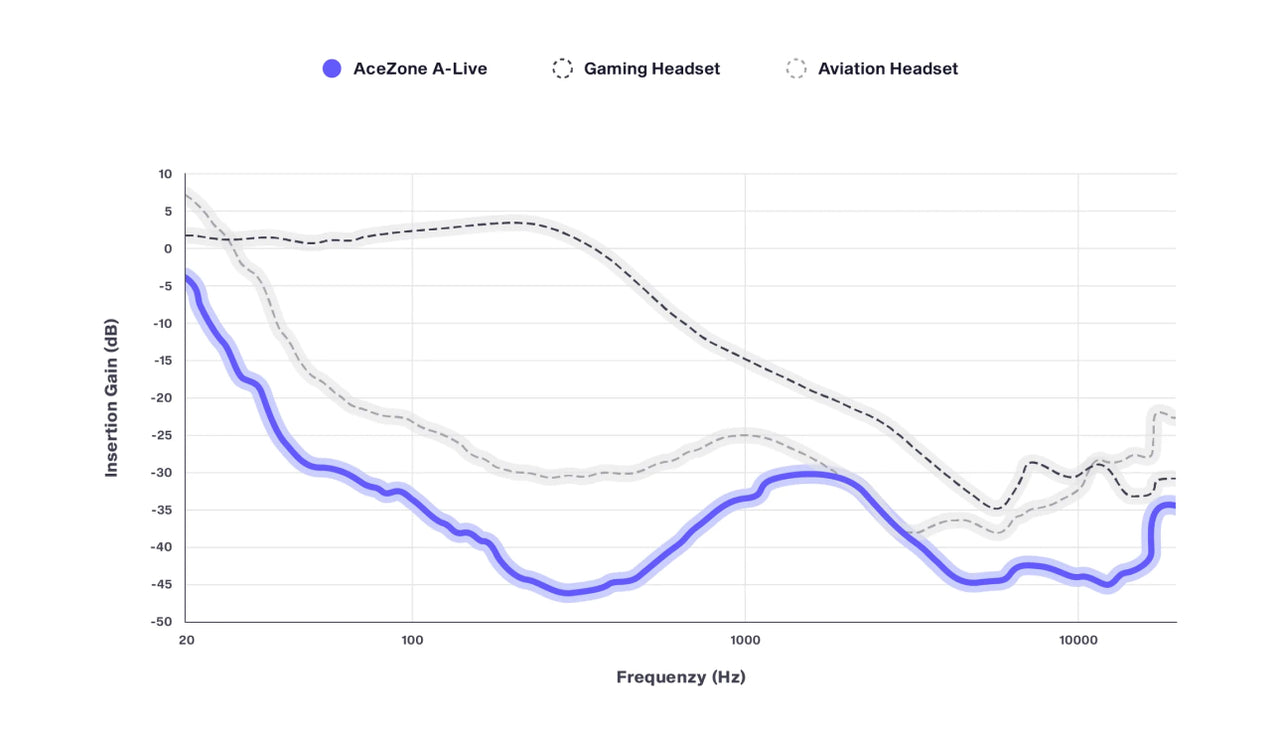 Admin
Detection SYSTEM
AceZone's innovative Admin Detection System (ADS) is designed to help admins diagnose potential issues quickly during a live event. The ADS enables smoother-run events with fewer tech issues.
Helps admins solve problems
live on stage
The system consists of several features built for tournament organizers to detect when players are experiencing audio issues on stage, and help admins diagnose the problem there and then.
On the AceZone A-Live headset there is an oval circle with three lights on each earcup. These LEDs communicate the status of the headset to tournament officials. If you're organizing events and tournaments, reach out to us below to get more information about the features of the Admin Detection System.
Speech Enhancer
Algorithm
While the directional voice microphone reduces some noise, the remaining noise is removed by the AceZone speech enhancer algorithm. The algorithm uses multiple microphones in the boom arm and on the earcups. These microphones record and then separate ambient noise from speech.
Clear team
communication
The multiple AceZone A-Live microphones combined with innovative firmware, allow the voice microphone to eliminate background noise. This combination of integrated hardware and firmware means that players only hear what they need to hear and no crowd or PA system noise.
Hear what
matters
The built-in Active Ambient Noise Cancellation (AANC) works in-tandem with passive damping to create best-in-class overall noise cancellation and sound isolation.
The Future of eSports

★★★★★

"Despite the fact that the AceZone brand is still in its early stages, it is already causing mayhem in the esports and headset industries."

Patrick Aikens - Gaming-expert, Audioviser

THERE IS SIMPLY NOTHING BETTER ON THE MARKET

★★★★★

"Pulling off any live esport event, let alone a Battle Royale such as Apex with 60 players competing at the same time, is full of technical and logistical challenges. There's simply nothing better on the market than the AceZone A-Live in delivering crystal clear game audio and in-game comms while isolating players from event noise, which is why we're using them for the Apex Legends Global Series."

Shahin Kanafchian, Partnerships, EA

MY ABSOLUTE FIRST CHOICE

★★★★★

"I've used the AceZone headset for the first time some months ago and now it is my absolute first choice. I can game and train longer and more concentrated, than ever before without getting tired. The headset literally makes the difference between winning or losing."

Emil "nyhrox" Bergquist, Fortnite, 00NATION & Redbull
Award winning
Design
Award winning design achieved by combining unmatched engineering within industrial aesthetics with the best and most solid choice of materials.
Ergonomic
Ear pads
The AceZone A-Live headset features changeable ear pads designed for world-leading passive dampening and sound isolation. This is achieved through a consistent seal, especially around difficult areas such as behind the jaw.
Interchangeable Headset
Padding
The AceZone A-Live headset is designed to last, even when being used on a rigorous schedule by numerous players at different events across the globe. Instead of replacing the entire headset, it's possible to replace just a few elements, such as worn headset padding, to get that "new headset" feel through a refurbish program.
Intelligent
Boomarm
The intelligent boomarm makes it easy for players to check if they have the best possible placement of their microphone in relation to their mouth at all times during competitive play. This guarantees the best possible communication throughout. If players want to mute their microphone, they can simply rotate the boomarm away from their mouth into the upward position and when they're ready to talk again, they simply lock it back into place.
Audio Interfaces: USB A
Driver Size: 42 mm, optimized for high performance noise canceling and sound clarity
Driver frequency range: 20Hz to 20kHz
Microphone: Noise canceling with Flip-to-mute boom arm
Microphone Algorithm: AceZone speech enhancer (3 microphones) 
Noise Canceling: Three layer military grade digital noise canceling
Weight: 550 g
Earpad: Optimized 3D earpad design for noise canceling
Materials: Exclusive sheep leather, robust headband adjustment system w. 9 positions, die casted aluminum yoke, glass fiber reinforced cups, military grade ear pad for extreme noise cancellation
• PU-zipper, black carry case
• 3.5mm AUX mini jack cable
• USB-C 3m fabric cable for gaming and charging
• User Manual
Still got questions?